So here is a new video. The bad news is I ended up getting the wrong camera for my photography class. So i had to ended up ordering a new camera. The one I have now I will keep it and use It in videos. The new one that will be coming in soon will only be used for photography. So there is story. So check out the video.

There is going to be a lot of things that I am going to be talking about and also a lot of things are going to change since I will be going back to school soon. Starting off with school. Classes will start on January 17, 2017 which is a Tuesday. I will be taking photography class. I am hoping to start a career in photography some day. I have been working on a website about my photography stuff. The site is still be worked on. You can check it out here:

http://doglovercms.wixsite.com/claudiasphotography

. I also have a job coming up at school that I will be doing as well. That might take away from videos as well. Now on to the youtube channels. I have so many channel that I have to watch over. I am going to still post on

thesuperstars1002

. I will be posting a video on there once a week so keep a look out for videos. I don't know what days I will be posting it will depend on when I am not busy. My other LPS channel

Thesuperstars1002lps

. I have not posted a video on there in 3 years. My goal is to post a updates video on there soon why I had not been making videos very soon. You can still watch videos on there, I also do my own face videos on

Doggold100

. I post videos on there once a week as well and there are no Littlest Pet Shop videos on there. I do random videos on there and pretty much talk about anything on there. I am hoping to make a website for that channel soon. I don't know when yet. My Channel

WebkinzLover10002

was a webkinz channel and I don't think I will be doing any videos on there. I forgot my password and can't get into my account. You can still check the channel out and subscribe if you want. I have a youtube channel that I used to do with a friend called

BreezyandClaudiasmix

. Me and my friend do not make videos on that channel. My friend has moved on with her life. I just post random videos on that channel and that is it. You can still check out the videos. I also have some family and friends on youtube as well who make videos. My Cousin Grace's channel

LPSStarloverlps1002

. I know there is only one video on her channel that was made by me. She has not posted any videos yet and I am hoping she will soon. You can still check out her channel. She also has her own website and you can check it out here

http://lpsstarslover1002.weebly.com

. My Step brothers Gavin and Caleb also have a youtube channel called

ignitedcreeper1002

. They make gaming videos and some other random videos as well. I was the one who created their channel and help them get started. They are still doing videos and I hope to have them a website very soon and future social media as well.

Ignitedcreeper1002

and

LPSStarloverlps1002

are currently the only ones right now who are apart of All Stars Productions. Other channel know as

Jillian Grace

and

Cheer with Jillian

who both belong to my cousin Jillian. She is no Longer with us. She No Longer makes videos and has been doing other things with her life. We not have not been speaking to each other. The world moves on. Well that is about it thank you for reading this post. I know it was very long and very important please keep update to with the blog so you can look up important updates about videos and stuff about my life. Thank you for reading and have a great day.

2017 is now here. I am looking forward to a new year and I am hoping you all are looking forward to a new year. Things may be changing with videos. I am involved in a ton of things in school. So far I will be busy mondays threw thursdays. So the only days I know I will be able to make videos are friday, saturday and sunday. I will be also working while I am in school as well. So that will cuases some problems with trying to make videos. I am going to do my best on puting out a video once a week, I will be doing a new room tour as well since my room has changed a ton at school. Idk if i am doing to be doing any seires videos anytime soon since I have been very busy with school and work. I will be taking photography classes this school year. I am really looking forward to the 2017 year and what is has to bring. I am going to try to work on making my videos alot better this year as well. I started to notice my videos were getting less views and I had no clue why. So I am going to work on making my videos way better. Edting will be coming out now since I can't make videos on my ipod as much anymore. People are expecting to make my videos better. I want my videos to be good. I don't want to have bad videos with bad reviews on them. It is just hard sometimes because i can be lazy when it comes to edting. I don't always like edting my videos becuase it takes time and i don't always want to take the time. I am going to try to take the time and edit the videos. I am looking forward to a new year. Thank you for understanding. Enjoy the new year and make the best of out it,
Powered by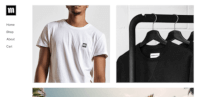 Create your own unique website with customizable templates.